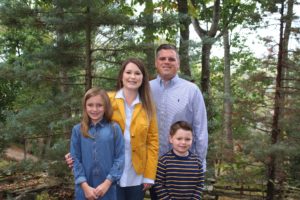 David has been Lead Pastor at Camden Nazarene since 2011. As Lead Pastor, David is responsible with working with our elected leadership team in casting and executing the vision of our church.
David received a bachelor of arts degree in History and Political Science from Trevecca Nazarene University in 2005. While at Trevecca, he traveled with the Trevedores and ministered to students throughout the Trevecca region in youth meetings, camps, and local churches. Following graduation, David was employed as the sports director for the YMCA in Columbia, SC. Although he had felt the Spirit's leading toward ministry during college, it was during his time at the YMCA that he confirmed his call to preach. The call led him to serve bi-vocationally as the youth pastor West Columbia Central. While at Central, he worked in patient finance with Palmetto Health and earned a master's degree in Pastoral Ministry at Northwest Nazarene University in 2011.
David is married to Casey, who teaches 5th grade at Camden Elementary here in Camden. Together they have two children, Addison (11) and Avery (10).