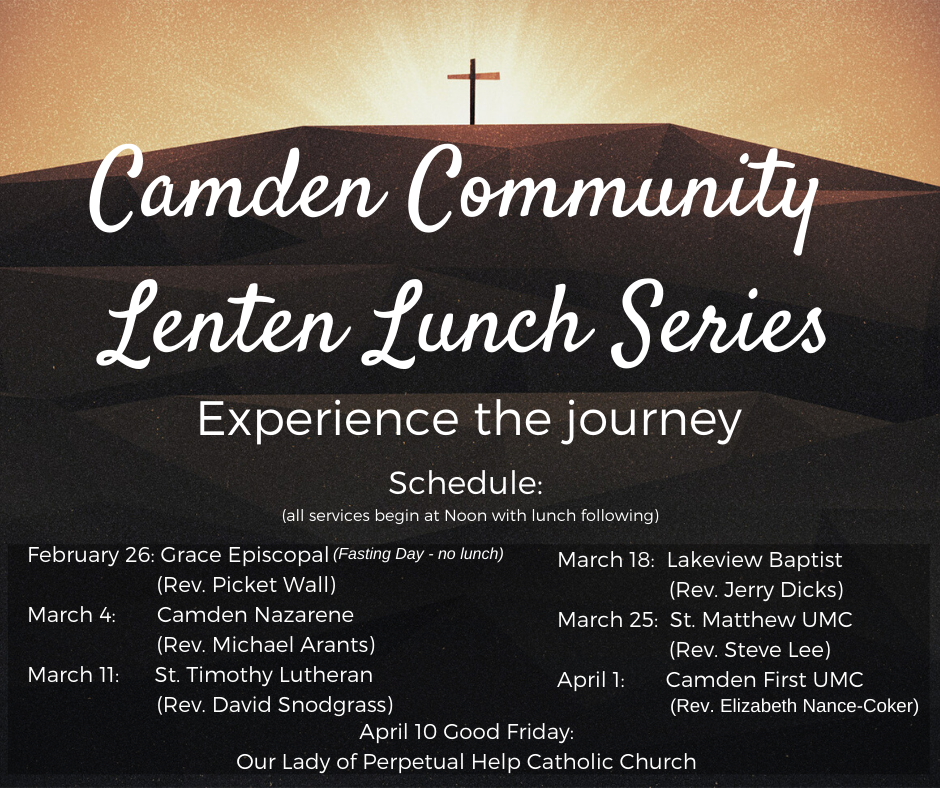 It is around this time every year that something special happens here in the Camden/Kershaw County community. With the anticipation of the season of Spring comes the season of Lent on the Christian Calendar. In the same way that moving from Winter to Spring can remind us of new life, so the season of Lent can remind us of the new life that is ours through Christ. It is during the season of Lent that we are reminded of the sacrifice that our Savior, Jesus Christ, made for us by suffering a cruel death on a cross. As Lent concludes with the season of Easter we are reminded of the new life that is ours through Jesus Christ. (More information on Lent here)
Here in Camden we have a great tradition of sharing this season as a community. Each year we have the Camden Community Lenten services where Christians from all denominations come together to make that Lenten journey towards the cross together. Yes there are all sorts of theological discussions to be had among the various churches that represent the universal church of Jesus Christ, but let's be clear; there will always be unity in the death, burial and resurrection of God's one and only Son, Jesus Christ.
Join us each Wednesday during the season of Lent to journey with Christ to the cross and be reminded of the sacrifice given so we can enjoy the gift of salvation.
Lenten Service Schedule
Ash Wednesday, February 26 | Fasting Day — no lunch | Grace Episcopal (Rev. Pickett Wall)
Wednesday, March 4 | Camden Nazarene (Rev. Michael Arant preaching) 
Wednesday, March 11 | St. Timothy Lutheran (Rev. David Snodgrass preaching)
Wednesday, March 18 | Lakeview Baptist (Rev. Jerry Dix preaching)
Wednesday, March 25 | St. Matthew UMC (Rev. Steve Lee preaching)
Wednesday, April 1 | Camden First UMC (Rev. Dr. Elizabeth Nance-Coker preaching)
Good Friday, April 10 | Our Lady of Perpetual Help (Rev. John Zimmerman)